Archive | TTIP
RSS for this section
Despite its Earth-shattering status as one of the biggest and most controversial trade deals we've seen in many years, the TTIP (Transatlantic Trade and Investment Partnership) has received very little coverage in the U.S. media.
But protests and opposition to this Pro-Corporate Dream Bill has raged across Europe. And in America, another similar deal that directly affects us, the Trans-Pacific Partnership (TTP) looms in Congress. If passed, the TTP will make passage of the TTIP easier.
In Europe alone, over 3 million signatures have been gathered by the website Stop TTIP.
This past Saturday, over 250,000 people turned out against the secretive trade deal in what's being called the biggest rally in Germany in many, many years — and with what's at stake for people who care about GMOs, food and chemical standards and national sovereignty from corporations, it's easy to understand why.
Read More: http://althealthworks.com/8207/hundreds-of-thousands-of-germans-shut-down-berlin-to-protest-trojan-horse-ttip-trade-deal-corporate-dictatorship/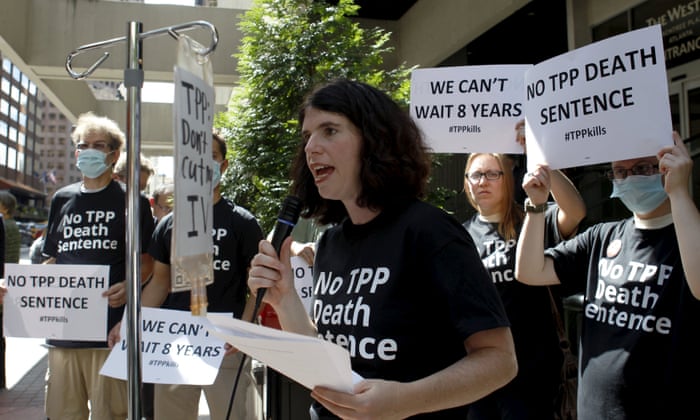 A dozen Pacific countries closed in on a sweeping free trade pact on Sunday in Atlanta, after a breakthrough over how long a monopoly pharmaceutical companies should be given on new biotech drugs.
The issue has pitted the US, which argued for longer protections, against Australia and five other delegations which said such measures would strain national healthcare budgets and keep life-saving medicines from patients who cannot afford them.
The compromise would preserve Australia's existing five-year protection period but would also offer flexibility on longer drug monopolies, potentially creating two tracks on future drug pricing within the trading bloc, a person close to the negotiations said.
Read More: http://www.theguardian.com/business/2015/oct/04/tpp-trans-pacific-partnership-pacific-countries-pharmaceuticals
When Corporations have more power than Government the people are screwed.
If a multi national corporation can sue a government for loss of profit, the environment, the people, and any sense of rights, freedom or liberty is lost. It is a disaster, rules and laws made in secret, behind closed doors, and the only attendees are those who benefit from the agreements.